Springe zur Liste der Casinos
In Anbetrachteiniger Einschränkungen bei Skrill und Neteller sind einige Spieler auf der Suche nach einer neuen Zahlungsmethoden, die ähnliche Sicherheit und Qualität bieten kann. ecoPayz, ein Unternehmen von PSI-Pay, ist dabei für viele zur Lösung geworden. Die Methode ist weit verbreitet und verfügt dank der ecoCard über schnellen Zugang zum Geld.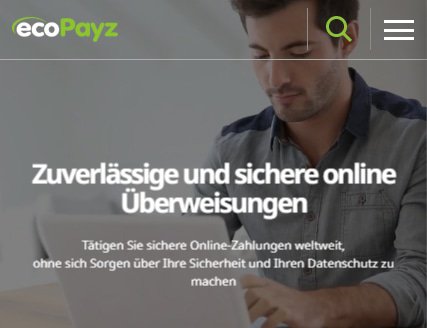 Wie funktioniert ecoPayz?
Zu den vielen Vorteilen von ecoPayz gehören die diversen Währungen und Länder, für die diese Lösung verfügbar ist. Die Registrierung verlangt die normalen Infos wie Namen, E-Mail, Geburtsdatum und Adresse sowie Telefonnummer. Um alle Optionen des Kontos nutzen zu können, musst du dann noch einen Nachweis darüber senden, dass du der bist, von dem du es behauptest und auch ein Adressnachweis wird gefordert.
Bei der Registrierung wirst du automatisch in Classic Level eingestuft. Wenn du einen Ausweis mit Foto und einen Nachweis deiner Postanschrift eingesandt hast, steigst du ins Silve Level aus und kannst Geld versenden und empfangen.
Die weiteren Level hängen von deiner Kontoaktivität ab. Der VIP ecoAccount ist die oberste Stufe und bietet den Nutzern die höchsten Limits, kostenlose internationale Überweisungen und eine günstigere Wechselrate bei verschiedenen Währungen an.
Einzahlen kannst du per Kreditkarte, Überweisung vom Bankkonto oder auch per ecoVoucher.
Die 5 Konto-Level lauten: Classic, Silver, Gold, Platinum and VIP.
Folgende Währungen werden akzeptiert: EUR, GBP, USD, ARS, AUD, BAM, BGN, BRL, CLP, CAD, COP, CHF, CNY, CRC, CZK, DKK, GEL, HKD, HUF, ILS, INR, ISK, JPY, MDL, MOP, MYR, MXN, NIO, NOK, NZD, PAB, PEN, PLN, RON, RSD, RUB, SEK, SGD, THB, TRY, VEF, UAH, UYU, UZS and ZAR.
ecoCard Prepaid Karte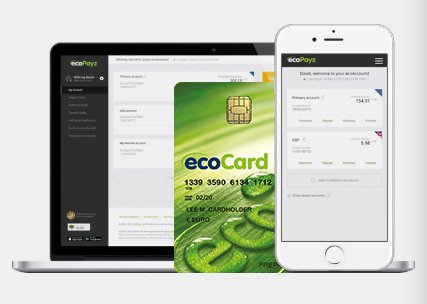 Du kannst dein virtuelles Konto nutzen, um mit anderen Online Händlern Transaktionen durchzuführen. Für die Kunden gibt es aber noch etwas besseres: Die ecoCard. Mit ihr kann man Bargeld in drei Währungen erhalten: Euro, Pfund und US Dollar. Du kannst ganz einfach zum Geldautomaten gehen und Geld abheben und die Gebühr für diesen Service ist dabei sehr gering. Um genau zu sein, ist sie sogar kostenlos, sofern du deine PIN nicht vergisst, eine neue Karte benötigst oder eine Währungsumrechnung durchführen musst.
Die Karte wird als Prepaid-Card bezeichnet, weil du im Prinzip nur auf den Betrag Zugriff hast, der in deinem ecoAccount vorhanden ist. Die täglichen Limits sind ziemlich großzügig. Ein Silber-Mitglied kann zum Beispiel pro Tag drei Mal 250 Euro abheben und für bis zu 1000 Euro einkaufen. Bei höheren Levels steigen auch diese Limits. Außerdem sorgt das MasterCard Logo dafür, dass du die Karte fast überall nutzen kannst.
Vor- und Nachteile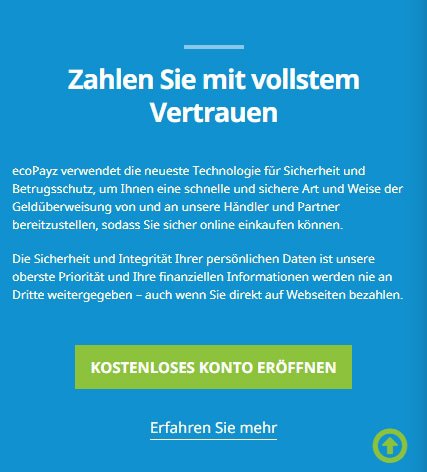 Die Vorteile haben hier sicherlich die Nase vorn. Die Zahlungsmethode ist in sehr vielen Ländern verfügbar, was das ganze unheimlich praktisch macht, vor allem, wenn du Geld in andere Länder übertragen willst. Die MasterCard macht das Ganze so richtig lohnend. Die Vorteile für den Kunden liegen in den direkten Transaktionen ohne Wartzeiten und den einfachen Zugriff auf dein Geld. Auch sind die Gebühren nicht übertrieben, was auch ein wichtiger Aspekt ist.
Auf der negativen Seite steht die Anzahl der Währungen für die keine Gebühren anfallen. Es werden zwar viele weitere akzeptiert, allerdings müssen diese immer umgetauscht werden.
Ausgeschlossene Länder
Afghanistan, Albanien, Algerien, Armenien, Angola, Amerikanisch-Samoa, Aserbaidschan, Belarus, Burkina, Burundi, Benin, Brunei, Bhutan, Botsuana, Belarus, Zentralafrikanische Republik, Tschad, C & ocirc, Ivoire, Kambodscha, Kamerun, Kongo, Kuba, Dschibuti, Eritrea, Äthiopien, Mikronesien, Gabun, Ghana, Gambia, Guatemala, Guinea-Bissau, Haiti, Irak, Iran, Kenia, Kirgisistan, Kiribati, Korea, Kasachstan, Lao People & rsquo; s Demokratische Republik, Libanon, Liberia, Lesotho Libyan Arabische Jamahiriya, Marokko, Madagaskar, Mali, Myanmar, Malawi, Mosambik, Niger, Nigeria, Nauru, Niue, Palästinensisches Territorium, Ruanda, Spanien, Sudan, Sierra Leone, Singapur, Senegal, Somalia, Syrische Arabische Republik, Swasiland, Togo , Tadschikistan, Tokelau, Tunesien, Tansania, Uganda, USA, Vietnam, Vanuatu, Jemen, Sambia und Simbabwe.
Externe Links
Payz Gebühren und Fakten zur Zahlungsmethode
Payz ist in diesen Ländern beliebt
Australia, Canada, Chile, Germany, Spain, India, Japan, Norway, Peru
Länder, die Payz nicht verwenden dürfen

Australien,

Vereinigte Staaten

Verfügbare Konten
1 account
Verfügbare Währungen
45
Kontoführungsgebühren
free
Konto ungenutzt
Account maintenance after inactivity of 12 months; 1.50 EUR per month
p2p Geldtransfer
Sende Geld über p2p
Transfer to/from ecoPayz Merchant; Free
Erhalte Geld über p2p
Free
Einzahlungegebühren
Sofortüberweisung
0.00-7.00%
Kreditkarte
1.69-6.00%
Auszahlungsgebühren
Banküberweisung
2.00% (minimum charge €1.50)
PrePaid Karte
ecoCard
Bestellvoraussetzungen
No
Versandgebühren
Free
Mitgliedschaft
Yes
Kosten für Auszahlungen am Geldautomaten
Yes
Neue PIN
€0.50 per request
Neue Prepaid Card
€12.50
Limits bei Bargeldabhebungen je 24h
Max daily (ATM) €1,500
Versandzeiten
7-21 business day
Verfügbare Währungen
ARS, AUD, VEF, BAM, BRL, BGN, CAD, CLP, CNY, COP, CRC, CZK, DKK, EGP, EUR, GEL, HKD, UAH, HUF, ISK, INR, ILS, JPY, JOD, KWD, MOP, MYR, MXN, MDL, NZD, NIO, NOK, PAB, PEN, UYU, PLN, GBP, QAR, ZAR, RON, RUB, SAR, RSD, SGD, SEK, CHF, THB, TRY, AED, USD, UZS
Validierung
3 years
Link zu den AGB
https://payz.com/policies/terms-of-use/
Gesamtwertung
Feedback der Mitglieder (
10

)
Melde dich heute noch an und werde für deine Aktivität belohnt
Du erhältst sofort vollen Zugang zu unserem Casino Forum und Chat und erhältst jeden Monat neu unsere Newsletter mit exklusiven Bonus und Neuigkeiten.
Melde dich sofort mit deinem Social Media Konto an